[Cek Fakta] PM Israel Sebut 'Tuhan Umat Muslim Tak Sanggup Tolong Palestina'? Ini Faktanya
Liputan6.com, Jakarta – Isu Palestina – Israel kembali mengemuka pasca-dukungan Presiden Amerika Serikat Donald Trump pada klaim sepihak negeri zionis atas Dataran Tinggi Golan — yang ditentang keras Indonesia, negara-negara Teluk, Uni Eropa, dan lainnya.
Tak hanya itu, konflik yang juga sedang memanas di perbatasan Jalur Gaza dan Israel, ramai diberitakan di Indonesia, termasuk di media sosial dan aplikasi perpesanan.
Salah satunya situs www.warta-berita.com yang memuat artikel berjudul, Netanyahu : Tuhan Umat Muslim pun Kabur Tak Sanggup Menolong Palestina!
Berikut narasinya:
Perdana Menteri Israel, Benjamin Netanyahu mengatakan, militer Israel mungkin akan melancarkan serangan skala penuh ke Gaza. Langkah ini sebagai respon atas serangan rudal ke wilayahnya.

Netanyahu yang berbicara jelang kepulangannya ke Tel Aviv pasca melakukan pertemuan dengan Presiden Amerika Serikat (AS), Donald Trump di Washington membuat ancaman tersirat bahwa Israel akan melakukan invasi penuh ke Jalur Gaza.

"Kami memberikan respons yang sangat, sangat kuat, dan Hamas perlu tahu bahwa kami tidak akan ragu untuk masuk dan melakukan semua langkah yang diperlukan," kata Netanyahu, seperti dilansir Russia Today pada Selasa (26/3).

"Jika kami menyerang dengan kekuatan penuh, Tuhan umat Muslim pun kabur tidak dapat menolong Palestina," sesumbar perdana menteri yang terjerat kasus korupsi tersebut.

Sementara itu, sebelumnya jet-jet tempur Israel membombardir kantor pemimpin Hamas Ismail Haniyeh di Gaza, sebagai aksi balas dendam atas serangan roket yang menghancurkan rumah keluarga di timur laut Tel Aviv, yang menyebabkan tujuh orang terluka.

Pemboman ini berlangsung Senin malam. Pasukan Pertahanan Israel (IDF) mengatakan bangunan yang dibom pernah ditargetkan dalam kampanye pemboman Israel 2012 dengan nama sandi "Cloud Pillar". Bangunan itu secara teratur digunakan oleh para petinggi Hamas untuk mengadakan pertemuan militer.

Serangan terhadap kantor Haniyeh awalnya dilaporkan jaringan radio Hamas. Haniyeh sendiri sudah pergi bersembunyi sejak hari Senin untuk mengantisipasi serangan pembalasan Israel.

 
Artikel tersebut kali pertama dibagikan di Facebook pada 26 Maret 2019, dan setidaknya telah dibagikan sebanyak 4.000 kali.    
Dalam narasinya, www.warta-berita.com menyebut bahwa sumber berita tersebut adalah Russia Today, media asal Rusia.  
Penelusuran Fakta
Berdasarkan penelusuran Liputan6 di situs Russia Today atau www.rt.com, ada tiga berita terkait PM Israel Benjamin Netanyahu yang dipublikasikan pada 26 Maret 2019.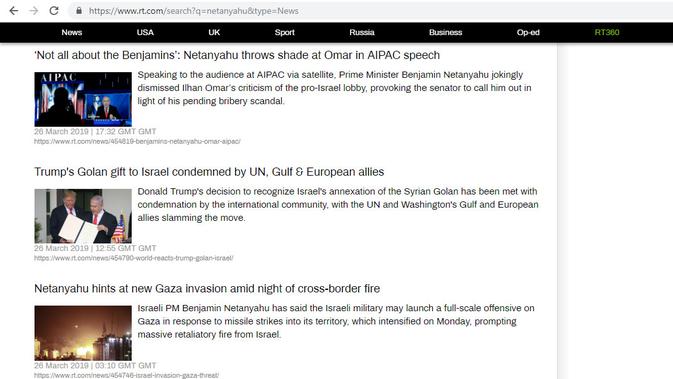 Salah satu yang mirip dengan pemberitaan www.warta-berita.com adalah artikel berjudul Netanyahu hints at new Gaza invasion amid night of cross-border fire.
Israeli PM Benjamin Netanyahu has said the Israeli military may launch a full-scale offensive on Gaza in response to missile strikes into its territory, which intensified on Monday, prompting massive retaliatory fire from Israel.

Netanyahu, who was supposed to speak at the American Israel Public Affairs Committee (AIPAC) policy conference on Tuesday, wrapped up his visit to Washington early due to the reports of rockets being launched from Hamas-controlled Gaza into Israel.

As he was boarding a plane back to Israel on Monday, the Israeli PM made a thinly-veiled threat to stage a full-fledged invasion of Gaza.

"We gave a very, very strong response, and Hamas needs to know that we will not hesitate to enter and do all the necessary steps," he said.

Seven people were reportedly injured as one of the rockets hit a home north of Tel Aviv on Monday morning.

Israel has mounted retaliatory strikes on what it claimed were elements of Hamas infrastructure within Gaza. The Israel Defense Forces (IDF) said it destroyed the office of the group's leader Ismail Haniyeh, as well as an alleged military intelligence headquarters and internal security service offices.

The parties have continued to exchange fire through the day and, as night fell, the flare-up showed no signs of subsiding.

The IDF, who had blamed Hamas for the attack, said Monday evening that the Palestinian militants showered southern Israel with "dozens of rockets".

According to the IDF spokesman, Palestinian militants launched some 30 rockets into Israel after 10 pm, just as a ceasefire brokered by Egypt was supposed to go into effect. Some of the projectiles reportedly fell into open areas. No casualties have been reported.

Israel did not comment on the truce reportedly reached with Egypt's mediation earlier in the day, while a Hamas spokesman confirmed it in a statement.

Further into the night, the Israeli military said it had engaged a further 15 targets in northern Gaza, which it described as compounds belonging to various militant groups, including hardline Islamic Jihad militants in the town of Beit Lahia, Haaretz reported.

Meanwhile, the Palestinian media reported Israeli strikes targeted "several" residential areas, setting a mosque on fire in the town of Beit Hanoun.

The spike in violence has reignited fears of a new, large-scale Gaza war looming in the region less than two weeks before the Israeli general elections.

Military spokeswoman Maj. Mika Lifshitz said on Monday that Israel would move two armored and infantry brigades to the Gaza front and was calling up reserve soldiers.

The last time the Israeli military invaded Gaza was in July 2014, when Tel Aviv blamed Hamas for the kidnapping and murder of three Israeli students found killed in the West Bank. The seven-week ground incursion resulted in multiple casualties among Palestinians. According to various estimates, over 2,100 Palestinians and 71 Israelis were killed. Thousands of Palestinians were injured.
Original Source : https://www.liputan6.com/cek-fakta/read/3931186/cek-fakta-pm-israel-sebut-tuhan-umat-muslim-tak-sanggup-tolong-palestina-ini-faktanya