Is Rashida Tlaib's 'Raping and Pillaging… What Goes Around Comes Around' Tweet Real?
An obviously fake tweet attributed to the Michigan congresswoman was used to "prove" that she showed anti-American sentiment.
Claim
Rep. Rashida Tlaib tweeted that Americans have been "raping and pillaging" her people and "what goes around comes around."
Reporting
In January 2019, a tweet attributed to Congresswoman Rashida Tlaib began circulating in questionable screenshot-only form on Twitter and Facebook: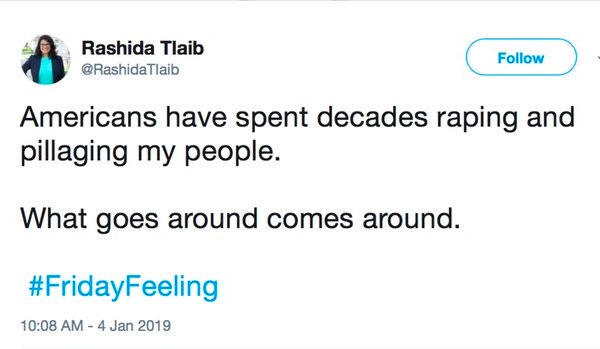 Dated January 4, 2019, it read:
Americans have spent decades raping and pillaging my people.

What goes around comes around.

#FridayFeeling
The tweet was immediately suspicious, as Rep. Tlaib's official Twitter account is verified  — but the tweet in the screenshot lacks the blue checkmark. Moreover, we were unable to locate any "residue" of its existence in the form of manual retweets via Twitter.
Although countless websites with which fake Twitter accounts can be generated do exist, the likeliest origin of the tweet in this case was an imposter account that mimicked the Michigan congresswoman's handle (@RashidaTlaib) by using an uppercase "i" in place of a lowercase "l." Although it would lack the checkmark, it would render as "@RashidaTIaib."
For good measure, we checked with Politwoops, a service that catalogues all deleted tweets by politicians. We found a single entry for Tlaib, in July 2018.
Rep. Tlaib, who is Muslim and  the first Palestinian-American woman to serve in Congress, has already been subjected to smears and unfounded speculation about her "loyalty" to the United States:
Tlaib also immediately caused controversy. Hours after her swearing in, Tlaib defiantly told the audience at a progressive event, "we're gonna go in there and we're going to impeach the motherf****r," a reference to the President.

The comments provoked an uproar and generated criticism from some fellow Democrats, but Tlaib didn't back down.

"I will always speak truth to power. #unapologeticallyMe," she tweeted Friday.
On January 10, 2019, the real, verified Rashida Tlaib tweeted a link to a Detroit Free Press item about the Twitter hoax. As of that day, the @RashidaTIaib account appeared to be suspended.