Did the President Tweet in Support of a Covington Catholic Student?
A tweet attributed to Trump about the controversy circulated on social media in the wake of a viral video.
Claim
U.S. President Donald Trump tweeted in defense of Covington Catholic students, and said "Indians" should "go back to India."
Reporting
On January 19 2019, Covington Catholic student Nick Sandmann  was named in a  viral video after a clip of his interaction with Native American activist Nathan Phillips at the National Mall spread across social media.
In the ensuing controversy, a tweet attributed to U.S. President Donald Trump spread in screenshots on social media: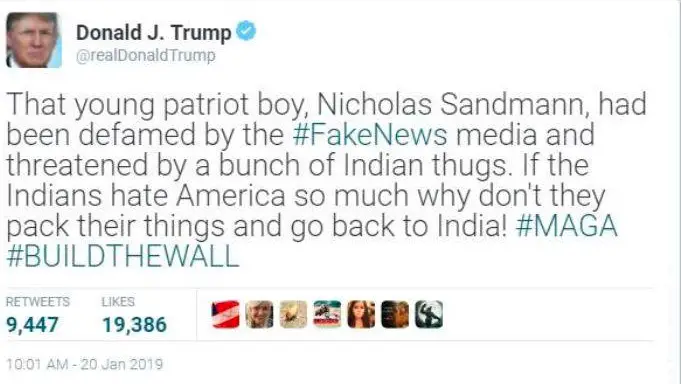 The purported tweet said:
That young patriot boy, Nicholas Sandmann, had been defamed by the #FakeNews media and threatened by a bunch of Indian thugs. If the Indians hate America so much why don't they pack their things and go back to India! #MAGA #BUILDTHEWALL
This tweet is a clear fabrication. According to ProPublica's Politwoops tool, President Trump's most tweet deletion at that point took place on January 14, five days before the video appeared.