Did a Covington Catholic Student's Mother Tweet That She Wished Natives Received More 'Smallpox Blankets'?
During a controversy involving student Nick Sandmann, a tweet attributed to his mother Julie about "smallpox blankets" went viral.
Claim
Julie Sandmann, mother of Covington Catholic student Nick Sandmann, said she wished Native Americans had been given more "smallpox blankets."
Reporting
In the middle of the Covington Catholic controversy on January 21 2019, rumors circulated that Julie Sandmann (mother of Nicholas Sandmann) had published a tweet wishing "smallpox blankets" had killed additional Native Americans.
Julie Sandmann's name entered the story when the outlet Heavy.com reported making initial contact with her about her son, Nicholas Sandmann. Not long after that article appeared, tweets from the Twitter account @GauchoGuacamole bore the name "Julie Sandmann" and quotes attributed to the account circulated in screenshots on social media. The remarks referenced an historical claim that colonists had deliberately infected Native Americans by distributing blankets to them that had previously belonged to smallpox  victims: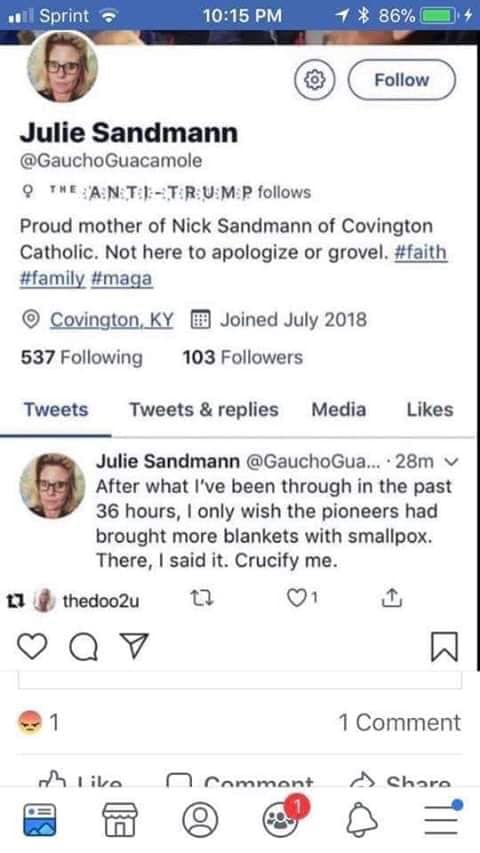 It said:
After what I've been through in the past 36 hours, I only wish the pioneers had brought more blankets with smallpox. There, I said it. Crucify me.
By midday on January 21 2019, the @GauchoGuacamole Twitter account was no longer up, but social media reactions to Sandmann's purported remarks remained:
His mom just tweeted " I wish they would have brought more blankets with smallpox" there i said it crusify me…maga. " that tells us all we need to know about how he learned to hate.
Those kids were harassing Nathan and the other Native Americans. Have you read the boy's mother's response? Wishing more smallpox blankets were brought by the Pilgrims. Disgusting. Those kids are filled with hate and ignorance.
Julie and Nick Sandmann are sad individuals with twisted beliefs. Can't believe tht Julie Sandmann said she wished tht the pioneers would of brought more blankets with smallpox. And she was proud saying tht!!! I think either she or twitter took her acct down.
Rumors that Julie Sandmann "took her account down" after posting the remark did not appear to be legitimate, as are rumors that she was behind this account to begin with. Google's cache (archived here) revealed that the most recent snapshots taken of the page indicated it did not belong to Sandmann in the first place. Whether the tweets were completely faked using a tweet generator or if the account was quickly made to resemble Sandmann's in order to spread disinformation or go viral, they were in any case forgeries.